About Us
WITH OVER 200 YEARS OF LAW ENFORCEMENT EXPERIENCE AND MANY LOCATIONS, WE ARE CENTRAL MARYLAND'S SAFEST AND MOST CONVENIENT DRIVING SCHOOL
ABOUT OWNER, LEAD DRIVING INSTRUCTOR, AND FORMER SECRET SERVICE AGENT CHIP SHEEHAN
Over the course of his career with the United States Secret Service, Chip Sheehan was the Lead Driving Instructor responsible for teaching driver training to the Agents who would later be selected to drive the President of the United States. Besides teaching the technical and analytical skills required to operate the Presidential limousines, Chip also instilled in the Special Agents who attended his specialized training course one simple strategic goal: to ensure that the President of the United States got to and from his destination safely.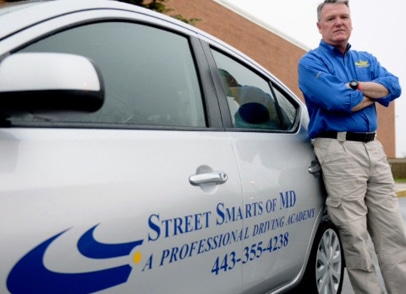 Throughout his nearly 29 years of government service, Chip also had the privilege to teach driver training to the children of Presidents, Vice Presidents and other high ranking government officials. Now that Chip has retired from the Secret Service, his goal is to bring the same defensive driving skills that he taught at the Secret Service Academy to the local high students within our communities.
CERTIFIED AND PROVEN INSTRUCTORS
The greatest strength of any driver education program begins with the quality of the school's instructors. No other driving school in the region can match the qualifications, training and experience of our staff of certified driving instructors. While not all-inclusive, the following is some of the training that our instructors have received during their law enforcement careers. As you can see for yourself, it's our training that sets us apart from all other driver education schools in the region.
OUR TRAINING
| Description | Hours |
| --- | --- |
| Bob Bondurant's High Performance Driving School | 40 hours |
| Bob Bondurant's School of Law Enforcement Driving | 40 hours |
| Bob Bondurant's Executive Protection Driver Training | 24 hours |
| Arizona State Highway Patrol Basic Course | 40 hours |
| Arizona State Highway Patrol Advanced Course | 80 hours |
| Arizona State Highway Patrol Instructor Course | 120 hours |
| Chevrolet, Volkswagen and Ford School of Driver Training | 40 hours |
| North Carolina Highway Patrol Basic Driving School | 40 hours |
| North Carolina Highway Patrol Instructor Driving School | 48 hours |
| Bill Scott School of Drivers Training | 24 hours |
| Bill Scott School of Defensive Driver Training | 40 hours |
| Bill Scott School of Defensive Driver Training | 36 hours |
| Chevrolet Class in Chandler, Arizona @ GM Proving Grounds | 48 hours |
| Briggs-Smith Corvette School | 40 hours |
| Drug Enforcement Agency Driver Training School | 16 hours |
| F.B.I. Driving Instructor School | 8 hours |
| High Speed Pursuit Course | 42 hours |
| National Certification as an ALERT Instructor | 24 hours |
| Arizona Highway Patrol Instructor Motorcycle Class | 120 hours |
| Annual In-services Arizona Highway Patrol | 24 hours |
| Northwest University Harley Davidson Motorcycle Instructors Course | 124 hours |
| North Carolina Highway Patrol Motorcycle Curriculum Development | 80 hours |
| North Carolina Advanced Driver Training | 40 hours |
| San Bernardino Motorcycle In-service | 24 hours |
| National Motorcycle Safety Foundation Instructor Course | 120 hours |
| Maryland State Licensing and Registration Motorcycle Safety Course | 120 hours |
| Metropolitan Police of D.C. – Police Motorcycle Class | 120 hours |
| Maryland MVA Instructors Course | 224 hours |
| Baltimore City Police Department Driving School | 40 hours |
| Baltimore County Police Department Driving School | 40 hours |
| Howard County Police Department Driving School | 200 hours |
| Smith System Defensive Driver Training Course | 40 hours |
| Secret Service Basic/Advance Driver Training Course | 80 hours |
| Secret Service Recruit Driver Training | 24 hours |
| Secret Service Armored Car Driver Training Course | 40 hours |
| Secret Service Driving Instructor Course | 120 hours |
| Secret Service Anti-Terrorist Driver Training Course | 32 hours |
| Secret Service Night Pursuit Driving Course | 8 hours |
| National certification as an ALERT Instructor | 24 hours |
| Secret Service Basic Motorcycle Course | 56 hours |
| Secret Service Advance Motorcycle Course | 80 hours |
| Secret Service Instructor Motorcycle Course | 80 hours |
| National Motorcycle Safety Foundation Instructor Course | 120 hours |